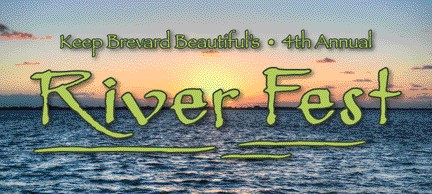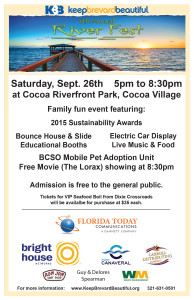 KBB's 4th Annual River Fest on Saturday, September 26, 2015, at 5 p.m. in Historic Cocoa Village, Riverfront Park
A fun, festive community event with live music, food and beverage vendors, children's activities, a VIP tent, and announcements of KBB's Annual Sustainability Awards.  The Sheriff's new mobile pet adoption unit will be there with some animals.  Kindergarten through 12th grade students are invited to submit artwork for a recycled art contest.  Theme is "River Critters".  Call Vicky Croft at 631-0501 extension 205 for more details.  FL Today's Matt Reed has agreed to MC.  We will close the evening with a family-friendly movie THE LORAX outside at 8:30 p.m.
Keep Brevard Beautiful is seeking nominees for the annual Sustainability Awards in order to recognize and reward organizations and individuals who have made significant contributions to the sustainability of the community, the economy, and the environment.
NOMINATIONS are now closed.
Download the nomination form here; pdf and Word documents available.  Submit completed forms by email to KBBriverfest2015awards@gmail.com.  Questions about the application should be submitted to the same email address or call Pat Brown at 321-631-0501 x 201.
PDF |
Email completed Sustainability nomination form to kbbriverfest2015awards@gmail.com
Deadline: 5 p.m., August 1, 2015
A Constant Contact River Fest Save The Date email went out June 18.  To be added to our email newsletters, please contact Amy Eyestone at 321-631-0501 x 204 or kbbgeneralmail@gmail.com.
Admission is free.  There is a VIP area; VIP tickets are $35 and include a drink.  VIP tickets can be purchased by clicking on the button (with $2.92 online convenience surcharge per ticket):
or call our office at 321-631-0501 x 204.  You may also mail a check to KBB or pay at the entrance.  Thank you for your support.