A monthly recognition program for businesses and/or residences who have shown exceptional maintenance or beautification of their property. Recipients of this award receive a "We Noticed" certificate or a "We Noticed" certificate and sign to temporarily display on their property. The awards are presented by the area KBB Action Team.  A press release, submitted to local media announcing winners, serves to build community pride by encouraging others to participate.
Please fill out a "We Noticed" nomination form and return to KBB if you would like to see an outstanding beautification effort in our community recognized.
"We Noticed" Recipients - 2018
| Name of Business or Residence | Location | Month | KBB Action Team |
| --- | --- | --- | --- |
| Cumberland Farms | Titusville | January | North and GTR |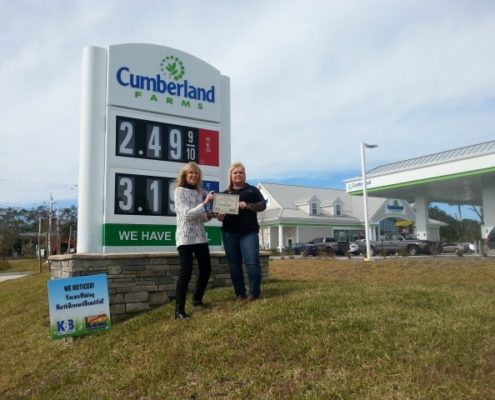 We Noticed News!
Congratulations to Cumberland Farms in Titusville for receiving the North Action Team's We Noticed award!  Pictured are Donna Brenner, President North Action Team and Angela Faw, Store Manager.
Public Awareness
Through press releases, interviews, newsletters, display tables at community events, public service announcements, and public speaking engagements, Keep Brevard Beautiful, Inc. promotes environmental activities which help to educate the public on current environmental concerns and activities associated with the goals of Keep Brevard Beautiful, Inc.
High Points
Interviews and Public Service Announcements
Bright House Cable Community Bulletin Board, Central Fl News 13, WA1A-107.1, WAMT-1060, WBVD-FM, WCIF-106.3, WCNO-89.9, WESH TV 2, WFIT, WFTV Ch. 9, WHKR-102.7, WKMG Ch. 6, WLRQ "Brevard Focus," WLRQ-99.3, WMEL, WMIE-91.5, WMMB-1240 AM, WPGS-840, WPIO-38.3, WRFB-860, WWBC-1510, WAOA-1560 and WWHL-1350.
92 print media articles and mentions – $ 93,613.90 donated equivalent ad dollars.
Annual Awards & Installation Dinner and Annual Adoption Awards Breakfast.
Presentations to
Adoption teams (new), Space Coast Field of Dreams, Cumberland Farms, Brevard Community College, Brevard County Board of County Commissioners, Brevard County League of Cities, Palm Bay Garden Club, Brevard Zoo Teacher Appreciation Night, KAB Regional Forum, KFB affiliates, Melbourne, Cocoa Beach, Palm Bay and Titusville Chambers of Commerce, Merritt Island Garden Club, Florida Department of Transportation, Sea Turtle Preservation Society, Tourist Development Council, Rotary and Kiwanis Clubs and other civic groups