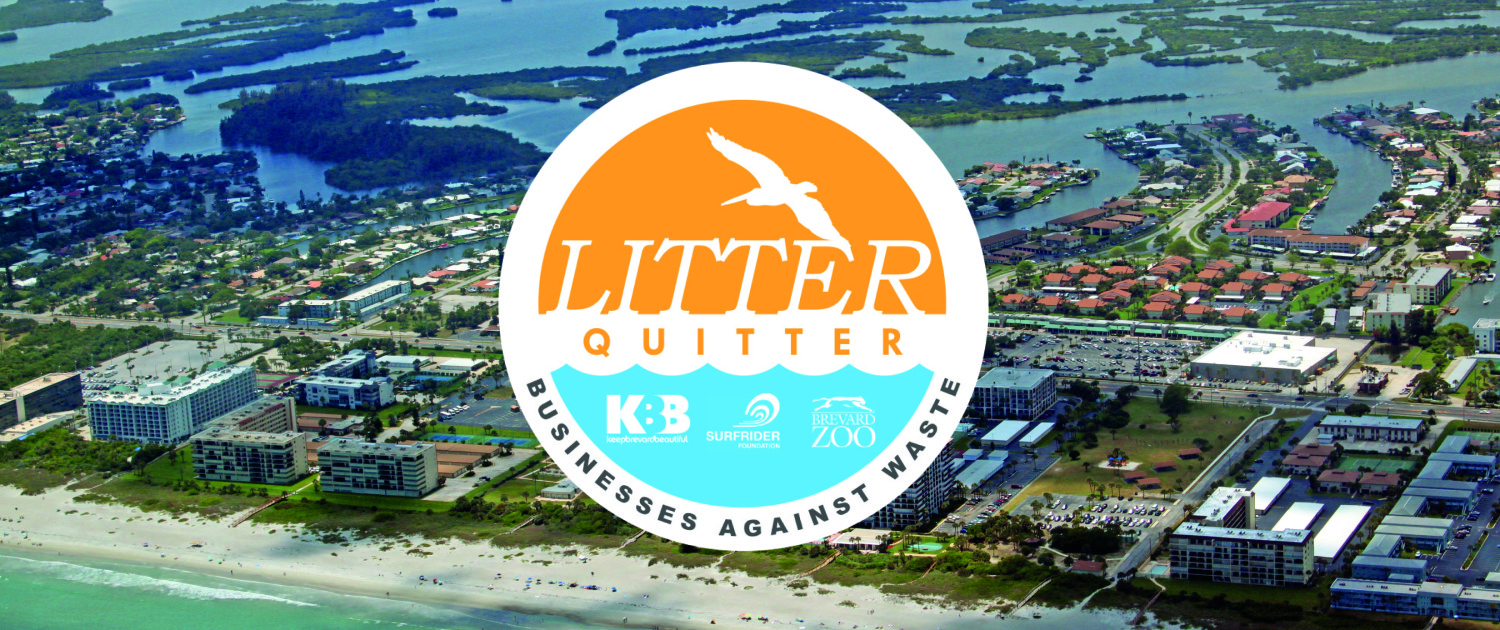 Litter Quitter
"Businesses Against Waste"
Litter Quitter is a Keep Brevard Beautiful program — backed by support from Brevard Zoo and the local Cocoa Beach and Sebastian Inlet chapters of the Surfrider Foundation — that uses partnerships with local businesses as a means of reducing common sources of litter, like single-use plastics, plastic bags and polystyrene (Styrofoam).
In some cities, up to 49 percent of litter results from to-go food service items, and single-use plastics and polystyrene can linger in the environment for thousands or even millions of years, representing a huge challenge for our community. Litter Quitter therefore aims to reduce the amount of litter entering our economically and ecologically valuable waterways and natural spaces by recruiting local restaurants and businesses to serve as litter-reduction trendsetters.
Our trained public outreach volunteers are out hitting the streets in hopes of convincing their favorite local restaurants to make one small, cost-effective business practice change to reduce litter, such as instituting and "ask-first" straw policy, starting a recycling program for soda cans, or switching from Styrofoam to biodegradable recycled paper cups. In exchange, businesses receive free marketing promotion, discounts on sustainable products, and networking/education opportunities.
The Facts About Plastics Litter
6 million tourists visit Brevard County annually
Tourists spend about $3 billion each year in Brevard County
$3.7 billion in economic value are contributed by the Indian River Lagoon
Beaches are the top tourist destination in the United States
Surveys show cleanliness as a key factor in tourist's choice of beaches
37,613 tons of litter were collected by KBB volunteers in 2014
90 percent of floating marine litter is plastics and Styrofoam
80 percent of marine litter originates from activities on land
49 percent of litter in some cities results from to-go food service items
500-1,000 years is how long it takes a single peice of plastic to degrade
Polystyrene is a suspected carcinogen and never bio-degrades
E-mail Programs Coordinator Kaylyn Palmer with any questions, or sign up for our newsletter to stay up to date.
Benefits For Member Businesses
A Litter Quitter window sticker notifying potential customers of your sustainability commitment
Promotional listings on the websites of program partners and social media spotlights
Mentions of you company in press releases to local media outlets and promotion of your company at public outreach events
Group pricing discounts on sustainable product lines from major supply distributors
Networking and education opportunities via local sustainability summits
An annually organized "day of support" driving new customers to your business
Litter Quitter members can include their certification as a practice in the Indian River Lagoon Green Business pledge.